Dates

Fri, Mar 31, 2017 — Sun, Apr 2, 2017

Venue

Kelowna, BC
Mutual Materials will be participating in the following event to support the British Columbia Society of Landscape Architecture:
2017 BCSLA Annual Conference, Showcase of Products & AGM
It is anticipated that more than 300 delegates, speakers, exhibitors and allied professionals will gather at the Delta Grand Okanagan Resort in Kelowna, BC  from March 31 to April 1, 2017. This premiere event for  landscape architects, interns, students, and key stakeholders, from the public and private sector, academia, and the community provides an opportunity for design professionals to come together to share ideas and solutions.   Scott Watson, BCSLA President Elect is tasked with working with the  Continuing Education Committee and the Interior Chapter volunteers to develop the program and the theme.
The City of Kelowna has proclaimed March 31, 2017 as "Landscape Architecture Day" in Kelowna.  We are delighted to report that Mayor Colin Basran, City of Kelowna, will open the Conference by welcoming delegates, speakers and volunteers to Kelowna.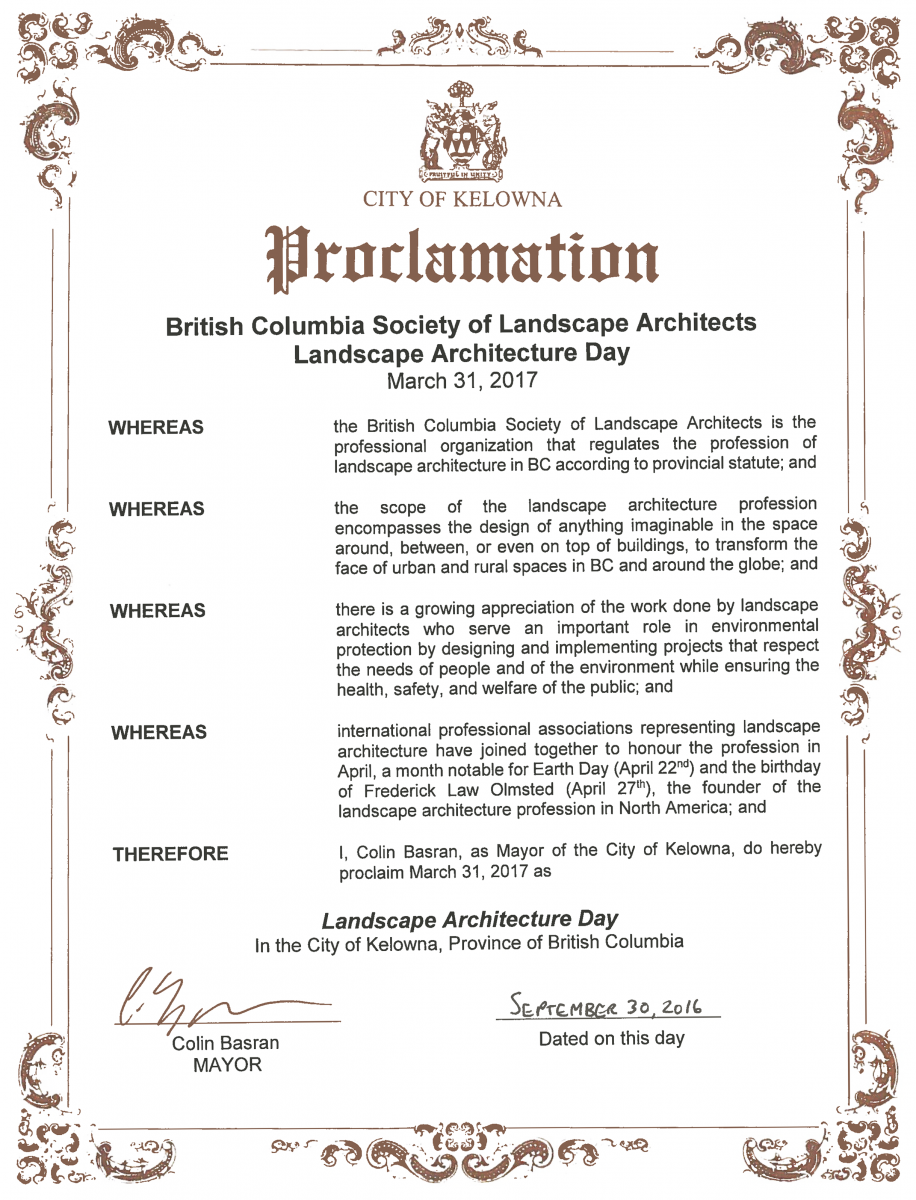 Accomodation
The Delta Okanagan Grand Resort is offering discounted guest room rates for all BCSLA Conference delegates.  Book early to secure the best choice of guest rooms and rates.  The deadline to reserve your guest room is February 27, 2017.  Follow this link today!
Landscape Cafe: Thursday, March 30, 2017
The popular BCSLA Landscape Cafe is a pre-conference event that will be held will be held Delta Grand Okanagan Resort in Kelowna, BC on March 30, 2017.  Watch this space for more details.
Showcase of Products & Services
Discover a myriad of new products, services, technology applications, and design concepts in Kelowna.  The BCSLA Showcase of Products and Services sold out in 2016 and the 2017 Showcase Information Package is being developed now – contact the BCSLA office to add your name to the invitation list.   Previous exhibitors, program supporters and BCSLA Affiliates are given preferred choice of exhibition space.

2017 BCSLA Annual General Meeting
The BCSLA AGM will be held on Saturday, April 1, 2017 at the Delta Grand Okanagan Resort in Kelowna, BC. The AGM is an opportunity to: elect a board of directors, receive the financial statements, make important decisions regarding the BCSLA , learn about current and and future activities and ask questions.   Eli Mina, M.Sc., P.R.P. , will be on hand to facilatate the meeting.  Mahmoud Virani,CPA, will be present to provide comments on the financial statements and audit. There is no cost to attend the AGM.
Thank You & Giving Back
The BC Society of Landscape Architects is pleased to recognize the contributions of the many participating presenters at the 2017 BCSLA Conference while giving back to the community. In lieu of traditional presenter gifts, we will make a donation on their collective behalf to  a non-profit organization that reflects the values of the BCSLA and our Members.