We are the largest supplier of masonry and hardscape products in the Pacific Northwest.
Across Mutual Materials, we are proud of what we do and are inspired to see our products chosen by architects, designers, builders, landscape professionals and residential homeowners to build communities and living areas.
As a fifth-generation family owned business, Mutual Materials is proud of our Northwest heritage.
President's Message
Thank you for considering Mutual Materials for your project.
At Mutual Materials our mission is to provide high quality masonry and hardscape products, which are ultimately used to build beauty that lasts through community buildings, family homes, relaxing public landscapes, and private outdoor living areas. It is inspiring to see in our community the visionary uses of our products in creating hospitals, schools, stadiums, businesses, homes, parks, and backyard spaces.
Mutual Materials is also a family business and we locally manufacture the products we sell. From humble beginnings with one brick plant in Seattle during 1900, we have grown today into a major regional employer operating more than 13 manufacturing plants and 18 branch offices across Washington, Oregon, Idaho, Montana, and British Columbia.
On behalf of the team here at Mutual Materials, we appreciate our customers. Thanks for the opportunity to win your business, and we hope that we can help you build something great.
Our Operations
Mutual Materials has diverse operations across Washington, Oregon, Idaho, Montana and Western Canada. Areas of operations include; mining, manufacturing, distribution, transportation, sales and retail store branches.
Our Values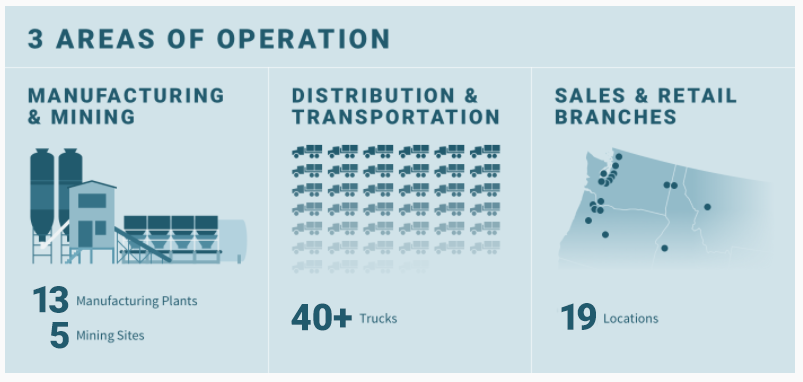 In Our Communities
As a company, Mutual Materials is dedicated to supporting community organizations focused on housing, youth, general education, the environment and industry specific education programs for Masonry and Hardscape trades.
Mutual Materials has provided products to organizations such as Habitat for Humanity, who are successfully constructing, rehabilitating, and/or preserving quality affordable housing for low-to-moderate income families.
For industry education, Mutual Materials supports the development of educational aids to promote the use of masonry and hardscapes products and in support of job skills training.
How Can We Help You?
If you have questions on product selection, ordering, or helping to find professionals for your project, please contact us.