A water feature can add a tranquil look and feel to any outdoor living space. While the placement and design itself is quite important, a homeowner will also want to consider how to complete the look of one in their outdoor space and landscape design. Mutual Materials has plenty of product and design options to help you design your landscaping in concert with your water feature as a focal point. From natural stone veneer options to paving slabs to retaining walls, we have what you need to make your outdoor living area a place you desire to be year-around.
Natural Stone Veneer Accents
Stone is attractive because it is entirely natural and blends well with any outdoor environment. It is durable and can withstand the effects of the elements. Natural stone veneer can help keep the rustic looking ambiance of your outdoor space surrounding your water feature. It can be used to create a retaining wall, fireplace, or an outdoor accent wall to complement your space.
Porcelain Slabs for Anti-Slip Protection
Porcelain slabs don't absorb water and are slip resistant making them perfect for creating a safe walking area around your water feature. Porcelain Slabs are higher strength but lighter weight, scratch resistant, impervious with a low water absorption rate, and highly resistant to stains, salts, acids, bases, molds, and moss growth. They are low maintenance and can be cleaned using common detergent and water.
Retaining Wall Support
Retaining walls blocks can be used to stabilize and support your property's landscape by reinforcing the soil around and near your outdoor water feature. Retaining walls can also help handle grade changes and provide more usable space where there previously was little. Not only can retaining wall blocks be used to support the surrounding area, they can also be used to make the feature itself.
Mix and match different shaped and sized units to create visual interest, cap your wall, add a convex or concave curves, or create staircases to add visual appeal to your wall. Decorate your hardscape with wall seating near your water feature to enjoy the views. Add planters, terraced gardens, columns, lamp posts, steps, or edges with interlocking blocks and caps to your backyard landscaping design to go along with your feature.
Pavers and Fire Pits
Continue the garden design look of your yard and water feature with a concrete or clay paver path. With virtually endless options of shapes, sizes, colors, and textures, pavers provide a stunning pedestrian surface and level surfaces for patio design. Flagstone is another excellent choice as it will not warp in the elements and is termite-proof. It is also provides traction due to natural ridges and limits water pooling on the surface making it a perfect complement near a water feature. Landscaping elements like pavers can provide additional visual appeal and contrast to your yard space. Consider adding the contrast of fire to your backyard feature with a fire pit or outdoor fireplace. What could be better than enjoying a warm fire while listening to the gentle sounds of water in your own backyard?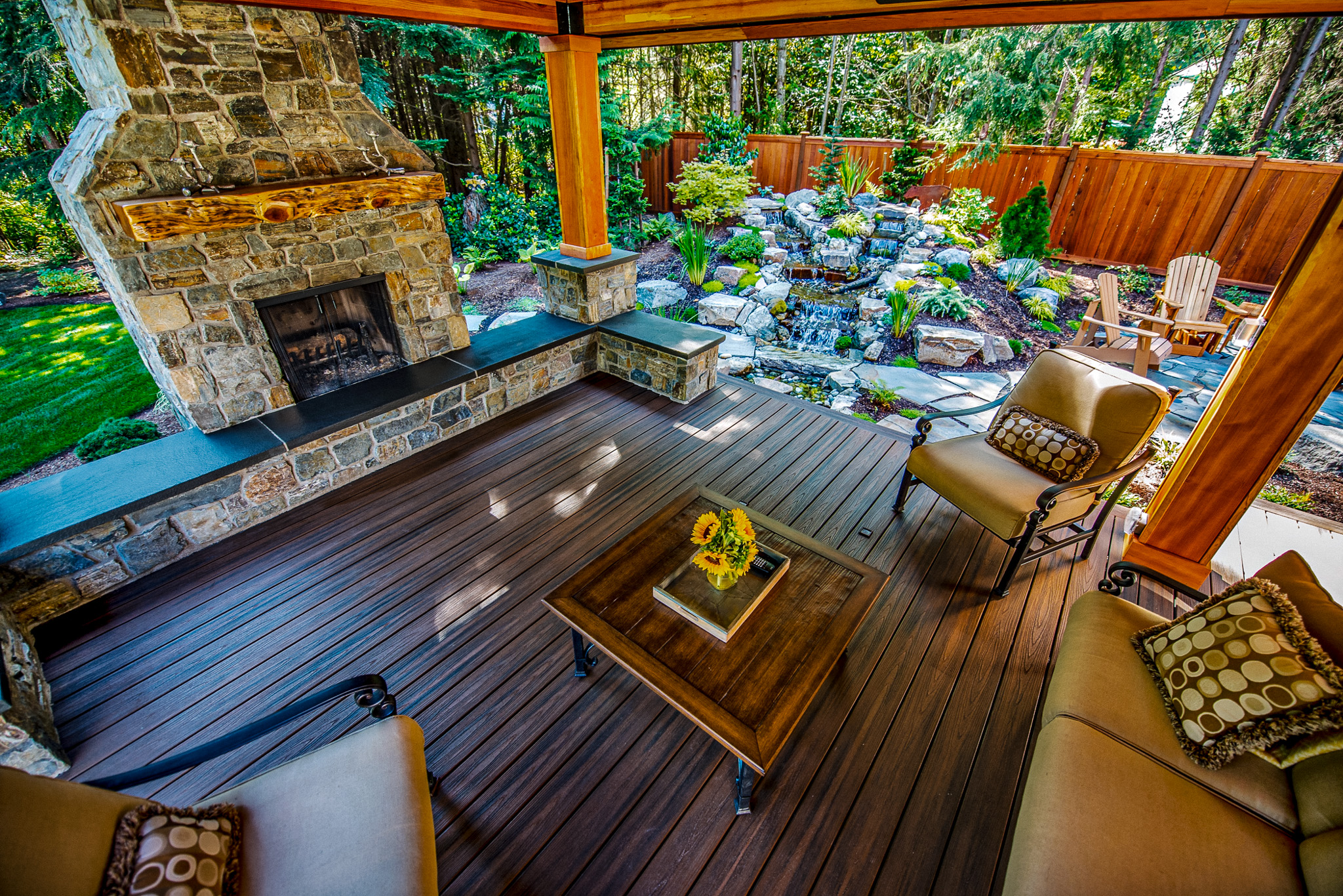 Material Options for Your Design
A water feature design can be created using a number of building materials from natural stone veneer to retaining wall block. Create your own by adding a plastic liner to the inside of your formation created with retaining wall blocks. We also provide boulders and rocks for a more traditional looking feature.
Whether contracting a custom water feature or making it a DIY project, Mutual Materials has everything you need to complete your home and landscaping project. Why not add the soothing sounds of running water to your outdoor design for a more tranquil feel to your backyard space?
Citations