Pavers are a perfect way to transform any outdoor area into an appealing and eye-catching space. Whether your home needs architectural slabs, patio stones, concrete, permeable, or brick pavers, Mutual Materials has plenty of options and colors to help you create your own private outdoor oasis to enjoy with your loved ones. We give you access to the Pacific Northwest's largest inventory of hardscape products made to design and install your dream backyard or outdoor living areas such as outdoor kitchens, fire pits, patios, walkways, driveways, and pool decks. No matter the types of pavers or where you are using them, Mutual Materials is here to help!
Pools and Water Features
Architectural slabs and porcelain pavers, work great around pool decks and patios because they provide a modern look and are low maintenance. These large format pavers are slip and stain resistant making them great around pools and water features where there may be heavy foot traffic. Within our porcelain paver line, you can go for the natural stone look with Bluestone Select or a more elegant modern look with any of the other colors. If you prefer concrete, Slaton paving slabs are both beautiful and natural looking stone pavers with ridges for traction making them slip resistant.
Looking for something more rustic? Clay pavers, Old Dominion Squares and Recs, and Roman Cobblestone can add a warm traditional look to your outdoor patio or poolside. Old Dominion Circle Kits are easy to install and can be a focal point of your patio. Holland and Dominion Slate pavers are perfect for creating unique patio areas with their variety of pattern and color choices.
Architectural Slabs & Patio Stones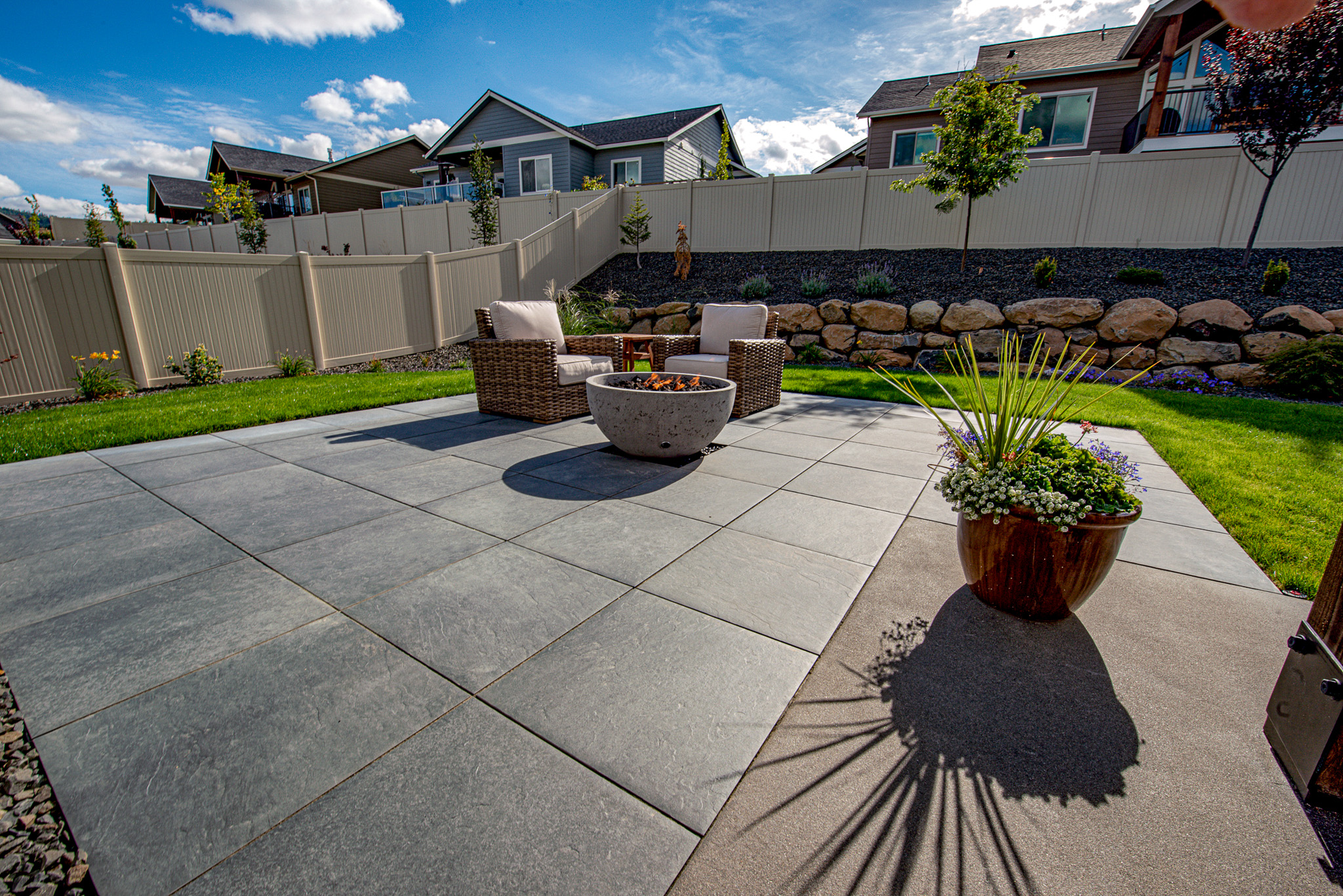 Outdoor Kitchens and Fire Features
You can use concrete or stone pavers for outdoor spaces of any size and even extend them to include an outdoor kitchen, fire pit, or fireplace. Any of our pavers can be used to make a beautiful fire pit the focal point of your space but we personally love the use of our Old Dominion Circle Kits with one of our Fire Pit kits in the center. Clay pavers are a great choice for any fire feature since they are made of brick making them resistant to high temperatures and moisture.
Holland Pavers, Roman Cobblestone Pavers, and Architectural Slabs are a popular choice for outdoor kitchens as they are slip resistant, stain resistant, and low maintenance. You can also get really creative and combine the use of a number of different pavers in your space.
Paths and Walkways
Our large selection of concrete pavers can be used to create pathways and walkways, adding functionality to your outdoor living space while still keeping it beautiful. Dominion and Roman Cobblestone pavers can be used to create straight or curving pathways. Available in three workable sizes, Dominion pavers can be incorporated into diverse patterns and allow you the flexibility to mix and match sizes to create pedestrian or vehicular surfaces with a worn rustic look. Holland Pavers are available in a wide range of colors and have a simple rectangular shape in different sizes that work well with various paver patterns and can add a unique look to the outside of your home.
Driveways and Entrances
Many of our pavers are great for high-traffic areas like driveways or a front yard path to your home. A driveway and entrance area are one of the focal points when looking at the exterior of a home. With a look that evokes a timeworn European courtyard, a paver driveway can catch the eye and add curb appeal. Our Roman Cobblestone, Old Dominion, and Dominion Pavers can help achieve such an aesthetic with their tumbled look and worn texture. For a durable classic look, homeowners will want to check out our Holland Pavers that come in three shapes allowing for various pattern applications with warm, luxurious textures.
For those wanting to add a touch of green, TurfStone pavers allow for natural grass to grow between the individual stones. Turfstone helps with erosion, preserving the soil underneath, and filtering rainwater through into the soil. For a natural look, Dominion Slate pavers have a unique slate texture with slight rippling to provide a surface with soft ridges that lends well to designing a variety of outdoor living areas.
Mutual Materials has all the high quality paving products you could need for your outdoor project. No matter the types of pavers or look you are going for, modern, rustic, or contemporary, we have the paver and color for you. Get creative with the variety of size and pattern options. We can't wait to see where you use your pavers and the kind of look you create!
Resources
Citations